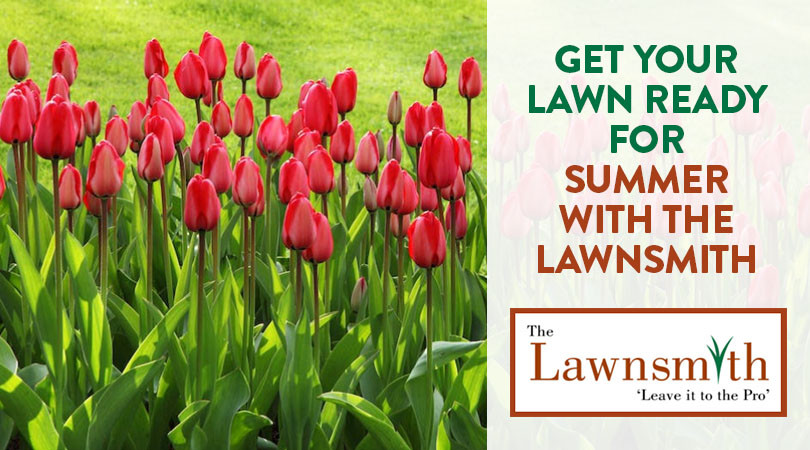 2023-05-22
Spring has officially arrived in Minnesota, and with it comes a fresh opportunity to revamp your lawn and garden after the long winter months. This winter felt like it would never end, didn't it?
Green grass has thankfully replaced the melting snow, but before you start working on your yard, let's be honest – it can be quite a daunting task! Between mowing, fertilizing, cleaning, trimming, and more, it's easy to get overwhelmed by all the maintenance needed to keep your yard looking pristine. But don't worry – The Lawnsmith is here to help!
Lawn Maintenance Services
At The Lawnsmith, we understand that maintaining a lawn can be time-consuming and exhausting. That's why we offer a wide range of year-round lawn maintenance services to help you keep your yard looking its best – without all the hard work. From weekly mowing and fertilizing to spring clean-ups, gutter cleaning, and power edging, we offer everything you need to take care of your lawn so you can spend your time enjoying it.
Common questions we receive include:
How does The Lawnsmith determine the schedule for weekly mowing services?
Answer: We determine your service area and work with you to determine the best mowing schedule for your specific lawn. This helps ensure consistent lawn care and that all areas of your lawn receive equal attention.
Can I customize the weekly mowing service to fit my lawn's specific needs and preferences?
Answer: Yes! Our highly knowledgeable staff can customize your weekly mowing service to fit the needs of your lawn. From grass height preferences and mulch installation to power edging around sidewalks and driveways, we'll work with you to create a custom plan that fits your individual lawn care needs.
What happens if there's inclement weather on the day of my scheduled weekly mowing service?
Answer: If there is inclement weather the day of your service, we will contact you as soon as possible to reschedule your service for a later day.
Lawn Care and Landscaping Services
But our service doesn't stop at lawn maintenance. We also offer lawn care services such as dethatching, aeration, double aeration and overseeding, and lawn renovation to help keep your lawn healthy and green. And if you're looking to spruce up your yard, our landscaping and gardening services might be just what you need. We offer services such as shrub trimming, mulch installation, sod installation, and gardening/weed pulling to help create the ultimate outdoor oasis for you to relax in.
Common question we receive about dethatching, aeration, and mulch or sod installation include:
What is dethatching?
Answer: Dethatching is the process of removing build-up that can occur during the winter when dead grass, leaves, and other debris accumulate in your lawn. This build-up can prevent sunlight and water from reaching the soil, which in turn can inhibit the growth of new grass and healthy roots. Dethatching helps to remove this build-up so that your lawn can get the water and nutrients it needs to thrive.
What is aeration and why should I have my lawn aerated?
Answer: Aeration is a process of creating small holes in your lawn that help loosen compact soil and allow oxygen, fertilizer, and water to penetrate deeper into the root zone. This helps promote stronger root growth, better nutrient absorption, and improved water drainage.
How do I calculate how much mulch I will need?
Answer: On our mulch installation services page, we have a calculator which will help you determine how much mulch you will need.
When is the best time to sod my lawn?
Answer: The best time to sod your lawn is in the spring or fall. Spring provides adequate warm temperatures and plenty of rain, which are ideal conditions for a successful sod installation. Fall is also a good time to sod as it provides ample root-building opportunity before winter sets in. We advise against sod installation in high temperatures, as this can cause the sod to wilt and die.
Now is the perfect time to sign up for our 2023 mowing service and ensure that your lawn is in good hands all summer long. Ordering our services has never been easier – simply log onto our website at www.the-lawnsmith.com and register for a new account, or if you already have an existing account with us, simply log in and view/order services. It's that simple!
This spring, let The Lawnsmith take care of all your lawn maintenance needs, so you can enjoy your beautiful yard without having to spend your summertime caring for it. We take great pride in ensuring our customers' lawns are healthy and vibrant. With years of experience in the industry, we can provide the best lawn care services for your unique needs. With our expertise and top-notch services, you can trust us to keep your lawn looking its best. So why wait?
Contact us today and get ready to experience the best lawn care in Minneapolis!
Photo credit: Public Domain Pictures / Pexels.