4/11/2017
Many homeowners in Bloomington, Minnesota and the surrounding communities assume that their lawn gets everything it needs from natural surroundings, water, and soil. This isn't necessarily the case since these represent only 13 of the 16 elements your lawn requires to remain healthy. You can only obtain nitrogen, phosphorus, and potassium in fertilizer that you purchase.

Another common misconception of local homeowners is that fertilizing a lawn is simple. It can be a complicated process because you need to time the application just right, have extensive knowledge of your soil and grass type, and choose the best type of fertilizer for Minnesota's climate. Fortunately, you don't have to figure it all out by yourself. The Lawnsmith offers a residential home fertilization program that provides you with two applications in the spring and three in the summer and early fall. We choose the right fertilizer for your lawn after evaluating its unique characteristics.

Fertilizing Your Shrubs and Trees
It's also import to fertilize your shrubs and trees regularly to ensure good health. Just like your grass, your shrubs and trees need nitrogen, phosphorus, and potassium. Getting the proper fertilizer is especially important while they're still early in the lifecycle. Even so, we usually advise against fertilizing the first year after planting your trees or shrubs. If your trees or shrubs are unhealthy or immature, fertilizing them could cause damage. Our team knows when and how much fertilizer to apply to your trees and shrubs.

Controlling Weeds
It's frustrating to see dandelions and other weeds crop up on your lawn when you spend so much time caring for it. One reason this happens is that local homeowners aren't always clear on how to identify weeds. We have the training and practical experience to know what we should remove and what not to disturb because it's harmless. Treating pre-emergent weeds in the early spring is the best way to ensure an effective weed control program for the remainder of the growing season.

Please contact The Lawnsmith today to request a quote for our fertilizing or weed control programs.
Photo credit:
evgenyb
/ Getty Images
3/2/2017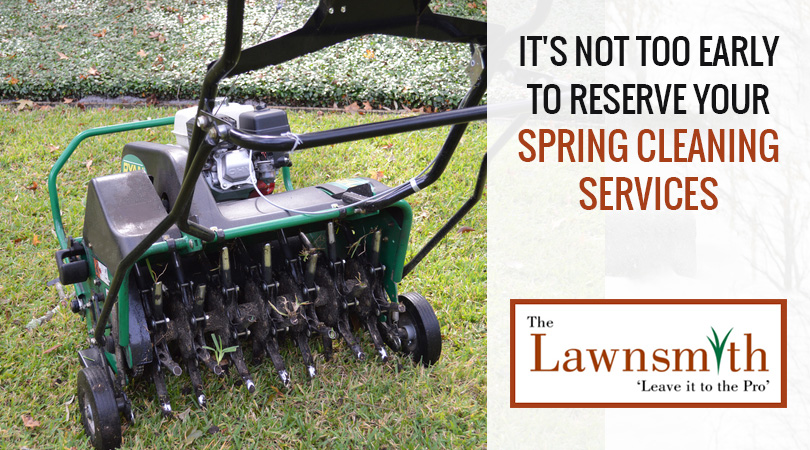 It's only early March, but the official start of spring is less than three weeks away. Your lawn needs tender loving care after surviving another Minnesota winter. With the mild temperatures we have enjoyed for much of the season, it could be ready for spring cleaning services from The Lawnsmith sooner rather than later. Our crew helps prepare your lawn for spring and the growing season ahead. We're as excited as you are that spring is on its way.

What to Expect from Your Spring Cleaning Session
Your lawn has taken a beating the last several months and it's our job to make it healthy, beautiful, and ready for spring. The first thing we do is clean your lawn, window wells, and landscaped beds with professional equipment. We start this process by attaching a metal rake to a mower for an initial light raking session of your turf. Next, we use a hand rake, backpack blower, and lawn mower to gather the clippings and debris in one place so we can bag them up and haul them away.

Consider Lawn Aeration Services
Once we have cleaned your lawn and yard, we recommend scheduling aeration services. Early spring is the ideal time to do this because of the soil compaction that took place during the winter. When the soil can't breathe, it causes thatch to build on in your lawn's root system. Aeration is the process of punching holes three to four inches deep in your lawn so it can get the water, oxygen, fertilizer, and other nutrients it needs to remain healthy. It prevents fungal infections, weeds, and future overgrowth of thatch.

Since this is an infrequent service, most homeowners in Bloomington, Burnsville, Eden Prairie, and the surrounding communities don't have the equipment on hand to do the job. Most don't have the experience either. You can trust The Lawnsmith with your aerating needs since we have both the equipment and experience necessary to ensure that your lawn thrives by getting the proper nutrients.

As useful as aerating is for your lawn, it also subjects it to stress. The reason early spring is the ideal time to complete it is that your grass is actively growing. This timing allows it to recover more quickly than in the summer or early fall when grass grows slower.

We are happy to answer any additional questions you have about our
spring cleaning
or
lawn aeration
services. Just give us a call at 952-937-5000 with your questions or to schedule an appointment.